Bend Comedy Presents: Benjie Wright & Lang Parker – Feb 28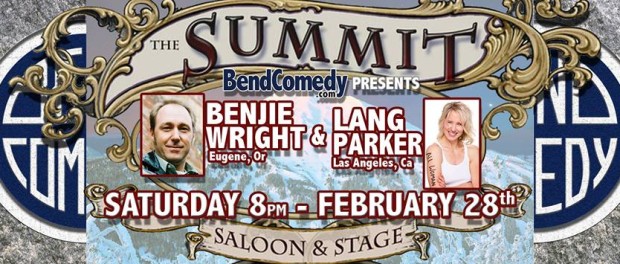 Bend Comedy Presents:
– BENJIE WRIGHT –
Benjie has the great ability to connect with his audience. It's the quality of sharing the humor in everyday situations that made Benjie Wright Alabama's Radio Personality of the Year for 2007 and has helped him become one of the fastest up and coming comedians in the business. Aside from the comedy stage, Benjie appeared on and emceed the first season of Nashville Star's field talent search on TBS, as well as being featured on Fox's Hole In The Wall and TNT's Leverage.
– LANG PARKER –
Lang Parker, headed out west from Wisconsin 15 years ago and continues her acting career in film, television and performing in commercials. Lang's impressive comedic timing, instant likability on and off camera and impressive writing skills gained her national attention on the Emmy-nominated NBC show Last Comic Standing. She floored judges when she came out in her overhauls and asked, "Have you ever been mistaken for a lesbian?" Lang regularly tours clubs and cities all over the United States as well as overseas to entertain the US armed forces in Afghanistan and bases in Eastern Asia.
Lang's credits include: Beverly Hills 90210,The Ellen Degeneres Show, a pilot for a major US network, 40+ national and international commercials as well as dozens of movie & television roles. Lang has won California's Funniest Female Contest and is compared to Jane Lynch, and consistently drawing parallels with the Roseanne star Laurie Metcalf. Lang also regularly contributes to Shea Magazine. She continues to perform and create worldwide.
Showcase: $8 Online / $10 at the door
Age: 21+