Bend Comedy Presents: JAKE DANIELS & ANDREW OUELLETTE – April 2 – Summit Saloon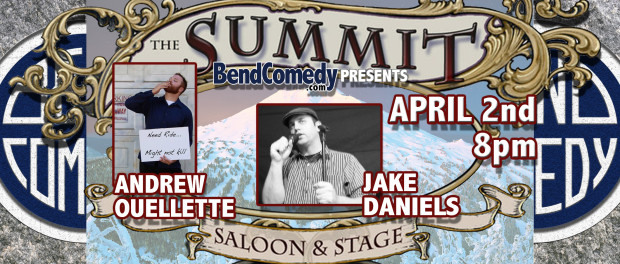 Bend Comedy Presents:
– JAKE DANIELS –
Jake has Produced several award winning films and is currently a traveling (not homeless) stand-up comedian. The "Heart Break Kid" brings his solemn history of relationship heartaches and heartbreaks to life in his stage act. The romantic comic flirts with topics such as: "Love at first sight", "role playing" and "divorce" Along with being a really bad magician, his act will leave you laughing and seeking someone to hug…Jake has Headlined Las Vegas Hard Rock Hotel and Casino and toured United States and performed Internationally in Dominican Republic (Majestic Resort, Hard Rock Hotel and Casino) and Canada as well as performing at several fundraising events for the United States Veterans. He will begin a 40 state tour in United States April 1st, 2015 through June 3rd 2015, the tour will be recorded for release by NetFlix.
– ANDREW OUELLETTE –
New York City based entertainer Andrew Ouellette is the subversive embodiment of underground comedy; this trailer-raised 9th grade drop out dances on the line of hilarious and twisted.
By the age of twenty-eight Ouellette had toured all 50 states; producing a tour of 50 shows/50 states/50 days. By age twenty-nine he did it again with an official Guinness World Record attempt for Fastest US Comedy Tour: 50 shows/50 states/48 days. Shortly after that he headlined his first international tour in Australia with rave reviews.
Although Ouellette has been seen doing everything from interviewing the Octomom to performing on television shows like Supreme Justice With Judge Karen, he's at his best when it comes to the high-energy irreverence of his live performances. Andrew crawls into the spotlight, reaches down his throat with shaking, ink-stained hands and pulls out his soul for your simple amusement; with his self-deprecating introspection, he brings you as close as you can get to the brink of madness.
Featuring: George Ingels
Hosted by: Ryan Traughber
Showcase: $8 Online / $10 at the door
Age: 21+