Bend Comedy Presents: NARIKO OTT & DAN WEBER – March 26 – Summit Saloon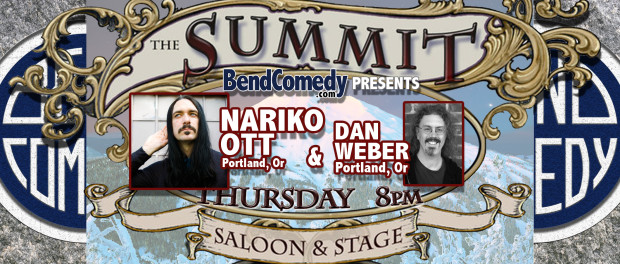 Bend Comedy Presents:
– NARIKO OTT –
Since moving to Oregon to begin stand-up in 2011 Nariko has been named Finalist in both the 2012 "Willamette Valley's Funniest Person" contest, the 2013 "Portland's Funniest Person" contest, He's performed on the nationally renown Competitive Erotic Fanfiction showcase, The Seattle International Comedy Competition, the 2014 Bridgetown Comedy Festival, and the 2015 Idaho Laugh Fest. Always working, Nariko has established himself in the comedy community by regularly hosting at Harvey's Comedy Club as well as performing at Helium Comedy Club. He's written for sketch comedy groups in multiple cities, currently travels as a feature comedian all along the west coast and is the producer of "Lex Hilaris" a Comedy & Metal Showcase at the White Owl Social Club in his new hometown of Portland, Oregon.
Nariko Ott was named in a "Who's Who" of comedy article in the Portland Mercury ("Comedy Is OK", August 28th, 2013) saying it best with, "Nariko Ott has decided that comedy can be metal." The Willamette Week also recently named Nariko Ot as a member of their "Funniest Five;" their ranking of the top 5 funniest people in Portland.

– DAN WEBER –
Dan Weber grew up in Tillamook, Oregon, or as he calls it, Alabama By The Sea. Having always wanted to do comedy, he waited a mere 24 years to start. The intervening time wasn't a total waste, as it provided him with a wealth of material to draw from. Dan talks on stage about all the topics you are supposed to never discuss in polite company. From religion to politics to life experience over-sharing, he leaves no sacred cow untipped.
Showcase: $8 Online / $10 at the door
Age: 21+