Bend Comedy Presents: CRAIG MAY & TAYLOR WARD – April 23 – Summit Saloon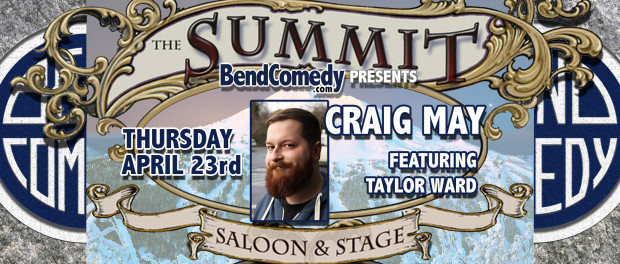 Bend Comedy Presents:
– CRAIG MAY –
Oregon native Craig May has been actively been doing comedy for over three years. His comedy style can best be described as an awkward hug that goes on for too long but you hold on anyway. Craig May mixes absurd experiences with stories of his own personal tragedies to explore topics from everyday life to the utterly ridiculous.
He is the creator of the comedy web-series "The Spicy News," and host of the obnoxious podcast "Did I Wake You?"
– TAYLOR WARD –
Taylor Ward is a writer, comedian, and all around bearded guy living in the Pacific Northwest.
Featuring: Michael Griffin
Hosted by: Ryan Traughber
Showcase: $8 Online / $10 at the door
Age: 21+