Bend Comedy Presents: CHRIS MORAN & TRAVIS NELSON – July 9 – Summit Saloon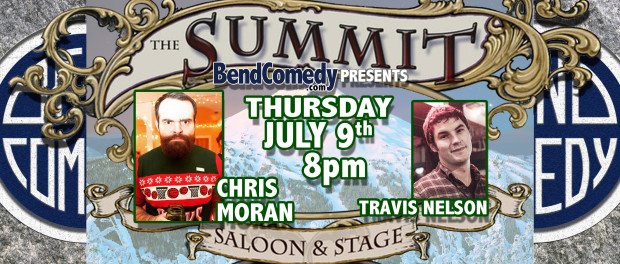 Bend Comedy Presents:
– CHRIS MORAN –
Chris Moran started comedy at legendary Giggles Comedy Club at the age of 16. In the years following Chris became one of the youngest working comics ever in the Pacific Northwest and became a regular at several clubs as well as many bars in the region. Moran's style of humor can be summarized as "cheerful cynicism" with a focus on his life and the way he sees the world around him. He has been featured in the show "The 206" and the movie "Max Rules." He has worked with the likes of Theo Von, Ty Barnett, Brian Scolaro, Bret Ernst and Louie Anderson.
– TRAVIS NELSON –
It's not often the world spits out a 6'9" softcore misanthrope with a heart of gold; in fact, Travis Nelson may be one of a kind in that regard. You can find him dwelling in comedy clubs, casinos and pubs, in all of his mythical rarity. Travis was blessed and cursed with a unique and towering point of view from which he spews his sense of humor. Yo-yoing between cynically sarcastic and uncommonly genuine, Travis delivers comedy that averages out to be pretty darn delightful.
Featuring: {TBD}
Hosted by: Ryan Traughber
Showcase: $8 Online / $10 at the door
Age: 21+