Bend Comedy Presents: April Richardson – July 24 – Summit Saloon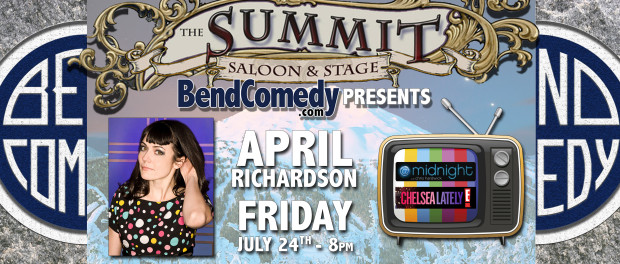 Bend Comedy presents:
-APRIL RICHARDSON-
Originally from Atlanta, Georgia, she moved to Los Angeles after graduating from college (later than most people do). Growing up, she was always obsessed with comedy and was always, as the expression goes, the "class clown." April never realized you could get paid for being obnoxious and disruptive until she moved to L.A. and got a job on E!'s hit show Chelsea Lately — Hollywood dreams, they do come true! She has performed at SF Sketchfest, the Aspen Laff Festival and the Bridgetown Comedy Festival.
Since Chelsea Lately ended, she has been touring with Dana Gould and featured on Chris Hardwick's "Fun-comfortable Tour" and has appeared several times on Comedy Central's hit show "@midnight".
Featuring: Ryan Traughber & Elaine Johnson
Host: Brad Knowles
Tickets: $10 Online