Bend Comedy Presents: CHASE BROCKETT & JON WASHINGTON – Dec 10 – Summit Saloon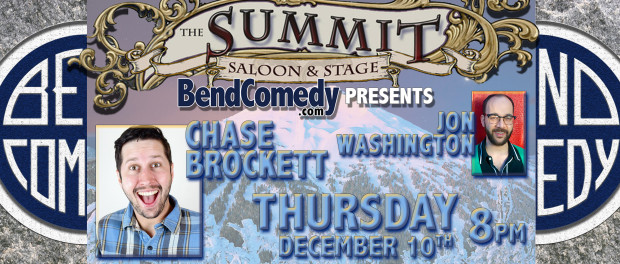 Bend Comedy Presents:
– CHASE BROCKETT –
Chase Brockett grew up in Bakersfield, CA, where being tiny and asthmatic forced him to become funny. After growing taller and ditching his inhaler, he moved to Southern California where he would become one of the "Best Of San Diego" at the Comedy Store. Chase explores a variety of subjects, such as family, relationships, politics, and science. His smart and endearingly frustrated comedic style has gotten him described as 'America's nephew'. His affable charm has delighted audiences in all types of venues, from bars, theaters, colleges, to clubs such as the Improv and Comedy Store. He currently resides in Portland, OR.
– JON WASHINGTON –
In a short time, Jon Washington has made himself an indelible part of the Portland Comedy scene, appearing on LiveWire Radio, at Helium Comedy Club, and having had his existence acknowledged by the Portland Mercury on multiple occasions. He stalwartly maintains his podcast "Jon Reads the Paper," and is one of the head writers of the Spicy News. With a dry wit and the ability to spin the trivial into the super-grave (and vice-versa), Jon Washington has quickly earned the mantle of being the Jon Washington of Standup Comedy.
Featuring: Karen Sipes
Hosted by Ryan Traughber
Showcase: $8 Online / $10 at the door
Age: 21+
Summit Saloon
125 NW Oregon Ave.