Bend Comedy Board Game Night – Tuesdays – Summit Saloon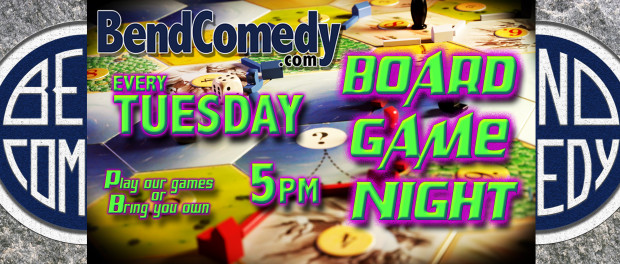 BEND COMEDY BOARD GAME NIGHT
Every
TUESDAY – 5PM
at
SUMMIT SALOON
Come have fun!! This is a friendly and relaxing environment to just enjoy yourself!
Show up any time after 5pm and play until Summit kicks us out! (Usually done around 10pm-ish)
Bring your friends or make new ones!
Play one of our games or bring your own!
Do you get bored of Board Games!?
You can play…
Board Games
Role Playing Games
Word Games
Card Games
Parlor Games
Trivia Games
SportsBall Games
Video Games
Computer Games
FYI: Summit does have many large TVs that we can use, so you are welcome to bring VIDEO GAME consoles!
Summit Saloon
125 NW Oregon Ave.