Bend Comedy presents: BEN HARKINS & JAKE SILBERMAN – Summit Saloon – April 7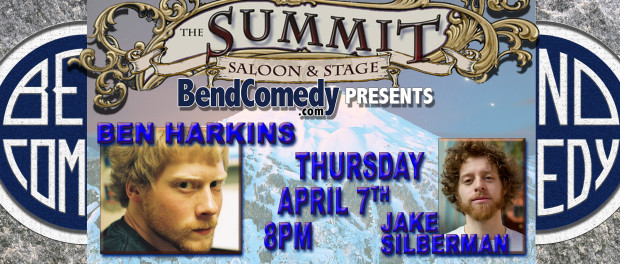 Bend Comedy Presents:
– Ben Harkins – @TheBenHarkins
Originally from Pittsburgh, currently residing in Portland, Ben Harkins suffers from persistent and exhausting clinical fury. His unsweetened wisdom and deadpan delivery have made him an audience favorite throughout the Pacific Northwest. His contentious material attacks every topic from the extinction of species to the price of groceries.
– Jake Silberman – @JSilb0424
Jake Silberman is a Portland based comedian whose misanthropic wit is winning audiences over throughout the Northwest. Whether performing at comedy clubs such as Harvey's and Helium, or between metal bands at basement shows, Silberman's charmingly dark twist on everyday life and human nature makes him a crowd favorite wherever he goes. Jake is the producer and host of The Laugh Track, a monthly showcase featuring top comics from Portland. He has also performed at the Mutiny Radio Comedy Festival in San Francisco.
Showcase: $8 Online / $10 at the door
Age: 21+