Bend Comedy presents: VERONICA HEATH & JUSTIN AMMERMAN – April 21 – Summit Saloon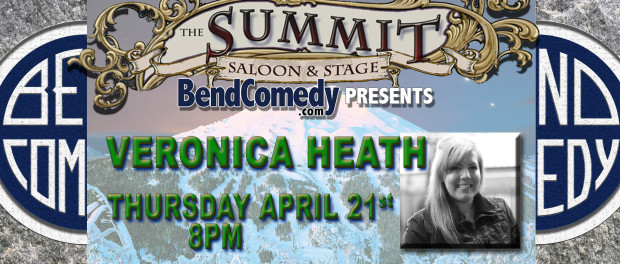 Bend Comedy presents:
– VERONICA HEATH –
Veronica Heath was born in San Francisco, CA and entered the Portland, OR comedy scene in 2006, with a strong presence. It didn't take long before she was spreading her neurosis and joy all over the West Coast and opening for some of the best comedians around.
Veronica has had speaking roles in 4 seasons of the IFC Sketch show, 'Portlandia'. In 2007, she finished as a finalist in the Stephen Colbert Portland Amateur Comedy Competition, and is a seven-time alum of the Bridgetown Comedy Festival. When she's not busy getting divorced or fighting rheumatic diseases, you can find her performing at comedy clubs, theaters, casinos, and festivals all over the West Coast and beyond. Additionally, she and one of her writing partners are working on a screenplay for a hopeful Lifetime movie.
When you think of Veronica Heath, think of an anxious unicorn and top shelf cranberry meets low shelf vodka, and then just let it happen.
– JUSTIN AMMERMAN –
Justin Ammerman is a comedian from Portland, OR. Having started comedy in late 2013 Justin has quickly become a local favorite up-and-comer. Blending his boyish charm, self-loathing tendencies, and a penchant for going off the cuff he has established himself as a comic who needs to be seen.
Justin has opened for national headliners such as Kristine Levine, Andy Andrist, and musician Mishka Shubaly.
Showcase: $8 Online / $10 at the door
Age: 21+