Bend Comedy presents: RAY MCMILLIN & TIFFANY GREYSEN – Summit Saloon – April 28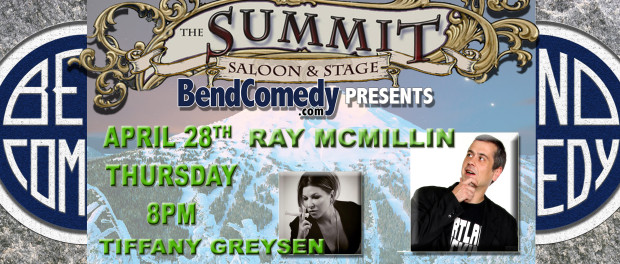 Bend Comedy presents:
– RAY MCMILLIN –
Straight out of the hills of Humboldt County, CA, Oregon native Ray McMillin spent seven years in graduate school before establishing himself as a capable, upstanding member of the adult entertainment industry. After walking away from piles of free money and gorgeous women to pursue a career in stand-up comedy, Ray has entertained audiences at festivals (Redwood Comedy Fest, Savage Henry Comedy Festival), featured at comedy clubs (Harvey's, Punchline) and theaters (Arcata Theater Lounge), won competitions (23rd Almost-Annual Arcata Pun-Off, 2014 Quarterdeck Comedy Contest), performed at chain restaurants (Denny's) and even video game stores (GameStop). Taking a rant-agonistic approach to otherwise mundane topics that don't seem to bother normal people, Ray McMillin brings his semi-unique brand of comedy to suspecting crowds of all backgrounds (or at least those available to residents of the Pacific Northwest). His writing can be found at TalesFromTheDJBooth.com and on various restroom walls up and down the 101.
– TIFFANY GREYSEN –
Tiffany Greysen is a Portland-ish based stand-up comedian and writer. Greysen also hugged her way into getting stage time at the 2015 Bridgetown Comedy Fest.Greysen is also a comedy pitch writer for Audible Rooftop Comedy, and Contributing Editor for Savage Henry, The West Cost Humor Magazine.
Showcase: $8 Online / $10 at the door
Age: 21+