Bend Comedy presents: RICHIE STRATTON & JOE LEONETTI – Summit Saloon – May 12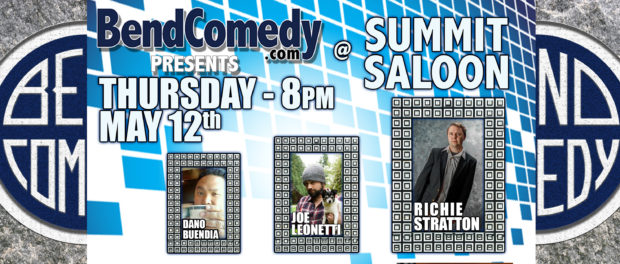 Bend Comedy presents:
– RICHIE STRATTON –
Richie Stratton has been a stand-up comedian for over 13 years, performing in every state in the continental United States. In 2007 Richie was one of the first stand-up comics on Van's Warped tour. In 2013 Richie wrote and produced the short film "Looked After" which took best picture, best writer and many other awards at the Guginol Fest, the 72 hour horror film fest. Currently Richie hosts a variety of shows around Portland including Sinferno Cabaret, The Superstar Diva's Mega Show, Kit Kat Club, and Jabba the Whutt.
– JOE LEONETTI –
Joe Leonetti is a Comic and host of the "My Portland Buds" Podcast, hailing from Portland Oregon. He decided to start the My Portland Buds podcast after a friend asked him what he does for a living. The explanation was a rambling attempt to explain how someone could spend their morning selling a condo to a hipster, their afternoon in a grow room, lunch with a comic, dinner in a strip club with an investor and conclude with a quick open mic to close out the day.
– DANO BUENDIA –
Dano Buendia is a standup comedian born in the backwoods of Alaska that has been sneaking out of bed to watch his favorite comedians since the age of 8.
Dano's day job has garnished him some pretty sweet credits in various films and video games, including King Kong, Transformers: Darkside of the Moon, Tomb Raider and Mortal Kombat.
But, it was Dano's first comedic gig of a 10 minute set at an amature talent night in Nevada City in 2012, surprisingly booked by his wife, E'lan, that set him on the path to comedy. Since then, he has been sharing his irreverent comedy at various open mics, including Rooster T. Feathers, Curious Comedy and Bend Comedy.
Showcase: $8 Online / $10 at the door
Age: 21+
Summit Saloon
125 NW Oregon Ave.