Bend Comedy presents: Alex Rios, Tim Ledwith & Karen Sipes – Summit Saloon – June 9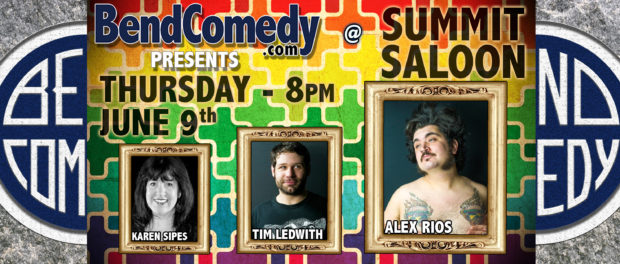 Bend Comedy presents:
– ALEX RIOS –
Alex Rios born in a haunted Troll doll factory, with a Party Girl tramp stamp and mutton chops. This weirdly hairy, tattooed infant was sent to save the human race from the evil party killers. Alex Rios is probably a space robot but definitely a comedian based in Portland,OR. Rios has been featured at Ventura Comedy Festiva 2014, Idaho Laugh Fest 2015, and performs at helium comedy club PDX, Harvey's comedy club PDX ,and Has performed at Chicago laugh factory. Is published in exotic magazine!
– TIM LEDWITH –
– KAREN SIPES –
Karen Sipes leapt head first back into doing standup three years ago after a long break, by competing in Bend's last comic standing, and has performed locally since. While she loves the joke telling biz, she is more often engaged in theatrical projects, as an actor, singer, music and stage director, having been a performer since age 3. A member of Bend Improv Group, she is also an obnoxiously proud mum.
Host: Ryan Traughber
Showcase: $8 Online / $10 at the door
Age: 21+
Summit Saloon
125 NW Oregon Ave.