Bend Comedy presents: Rico Starr, Stephen Peeve & Ryan Traughber – June 2 – Summit Saloon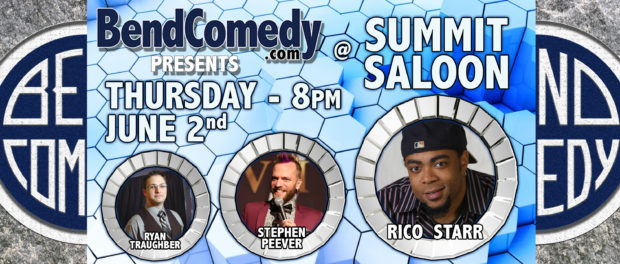 Bend Comedy presents:
– RICO STARR –
Rico Starr started doing comedy well, at birth, but his birth onto the stage was in 2005 @ the world-renowned Boiler Room, and he hasn't wanted to get off stage since. He brings a real-life style and talks about what he experiences and observes. Whether raw and un-cut or mild and intimate, Rico brings energy, education and a perspective only he can explain. Along with a love of the art, few truly know Rico will make your sides hurt and your day better! He's been on Grimm, Leverage, and most recently was involved in a Pilot for Bravo. He has played stages with the likes of B.J. Johnson, Coco Brown, Bobo Lamb, Honest John, Scruncho, Debbie Wooten, Spanky Harris, Daniel Dugard, Andre Paradise, J. Wendel Walker and a myriad of others. Keep it right here to keep up with him!!
2012 Winner of the Willamette Valley Comedy competition, Co-winner of the PDX vs WA comedy comp, Finalist in the Shades of Laughs '09 and Finalist in the 2011 PDX comedy comp, former host of Comedy @ Oak Grove.
– STEPHEN PEEVE –
– RYAN TRAUGHBER –
Host: Elaine Johnson
Showcase: $8 Online / $10 at the door
Age: 21+
Summit Saloon
125 NW Oregon Ave.