Bend Comedy Presents: Claude Stuart – Seven Nightclub – Aug 4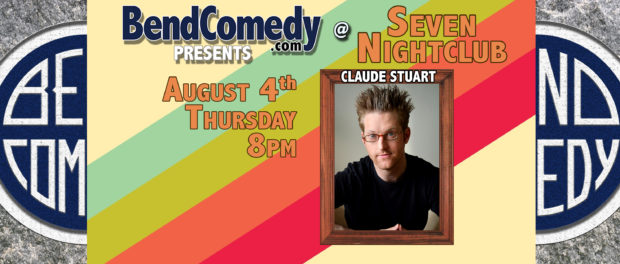 Bend Comedy presents:
– CLAUDE STUART – @claudestuart
From packing comedy venues across the globe to regular television appearances on shows like "The Tonight Show," and "Last Comic Standing," Claude Stuart has come a long way from his down home southern roots. By his own admission, he was "paddled on more than one occasion for being the class clown." Claude's explosive, in-your-face, rapid-fire, madman stage style is truly an exhilarating assault on the senses and has evoked comparisons to golden era physical comedians such as Steve Martin, Robin Williams and Jim Carrey. Claude's unique brand of Don Rickles-esque crowd interaction, coupled with clever well-written jokes makes him not only the world's first physical insult comedian but a "comedy triple threat!"
Some of his other credits include national commercials for products such as, Honda, Heineken, Jeep, Grapenuts and even Midol. He has appeared on "That 70's Show," "Scrubs," "Comics Unleashed," "Will & Grace", ABC'S "Last Man Standing" with Tim Allen, "Entertainers," "The Best Damn Sports Period!," "Oblivious!," "Talk Soup" and as a regular on "The Bob and Tom Show." Claude also recently co-founded the production company/sketch comedy team "Recycled Babies"; in which he is a writer, producer and performer. He most recently appeared in the Adam Carolla movie ROAD HARD, filmed a documentary overseas about entertaining our troops, and shot his new comedy special, "Claude Stuart: I've Already Started….", which will be released this year!
Showcase: $8 Online / $10 at the door
Age: 21+