Bend Comedy Presents: Debbie Wooten & Dana Buckendahl – Seven Nightclub – Aug 11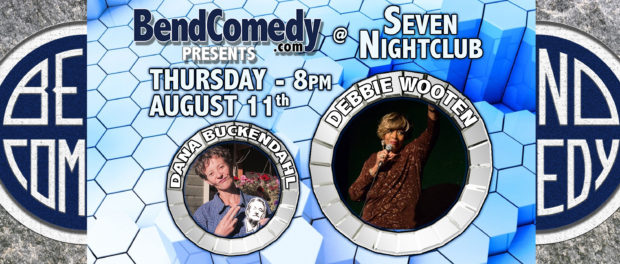 Bend Comedy presents:
– DEBBIE WOOTEN –
"Headlined:at all the casinos resorts on the West Coast, Open for such greats as,Jamie Foxx, Louie Anderson, JJ Walker, The kings in comedy tour in Washington state. Headline at Harvey's comedy club (five times) TV credits: BET Comics A to Z, Nick at night funniest moms in America a finalist, The Oprah show in Chicago Movie credits: Costarred opposite Dennis Moore in the "Ponyman movie"(2012)."
– DANA BUCKENDAHL –
While working at St Charles Medical Center the last couple decades, Dana found that laughter really is the best medicine. Over the last two years, Dana has been working closely with Bend Comedy and taking every chance she gets, to use her medicine like talents to heal audience's hearts and minds with laughter. As a local phenomenon here in Bend, her take on family, friends, and work, will make you feel right at home.
Showcase: $8 Online / $10 at the door
Age: 21+