Bend Comedy presents: Ladies Night Showcase (3rd Annual) – Seven Nightclub – September 16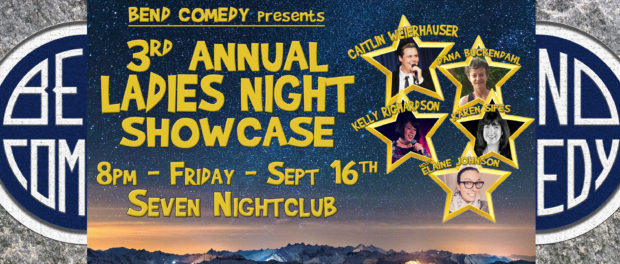 Bend Comedy Presents:
– CAITLIN WEIERHAUSER – @UncleCait
Caitlin Weierhauser is a "tantrum-prone" and "delightfully unhinged" comedian from Portland, OR where she is never happier than when she's mad.
Caitlin is a member of Lez Stand Up and has performed at Bridgetown Comedy Festival, All Jane Comedy Festival, Seattle Sketchfest, Pickathon, and Bumbershoot. She was included in the AfterEllen list of "40 Hot Queer Ladies in Comedy," and plans to dismantle the patriarchy by Christmas.
– KELLY RICHARDSON –
Kelly Richardson is a comic on the rise in the Portland comedy scene. With her sweet demeanor and macabre, twisted jokes, she's sure to surprise you. Her fresh perspective on childhood, God, and being a resistant millennial has been noticed by many local showcases as well as allowed her to perform in Oregon, California, Washington, Arizona, and Colorado. She produces and hosts a monthly, daytime showcase called Morning After Kill which promises to fix all of yesterday's mistakes, today. She also hosts a monthly open mic called Plan B. Kelly recently starred in a short film about stand up comedy called Unfunny. This film features Kelly's original material. She recently advanced to the Semi-Finals in Helium Comedy Club's Portland's Funniest Person competition. She will be performing in the Big Pine Comedy Festival in Flagstaff, AZ this Fall.
– DANA BUCKENDAHL –
While working at St Charles Medical Center the last couple decades, Dana found that laughter really is the best medicine. Over the last two years, Dana has been working closely with Bend Comedy and taking every chance she gets, to use her medicine like talents to heal audience's hearts and minds with laughter. As a local phenomenon here in Bend, her take on family, friends, and work, will make you feel right at home.
– KAREN SIPES –
Karen Sipes leapt head first back into doing standup three years ago after a long break, by competing in Bend's last comic standing, and has performed locally since. While she loves the joke telling biz, she is more often engaged in theatrical projects, as an actor, singer, music and stage director, having been a performer since age 3. Also a member of the Bend Improv Group and an obnoxiously proud mum.
– ELAINE JOHNSON – @Sweetie_Darling
Elaine started performing stand up comedy several years ago, after finally crossing "Open Mic" off of her bucket list on her 35th birthday. She's had the opportunity to work with comedians such as Kristine Levine, Kermet Apio, and April Richardson. Elaine often hosts and performs at Bend Comedy shows throughout Central Oregon.
Showcase: $8 Online / $10 at the door
Age: 21+