Bend Comedy presents: Will Woodruff, Boomer and Katy Ipock – Double J Saloon – August 25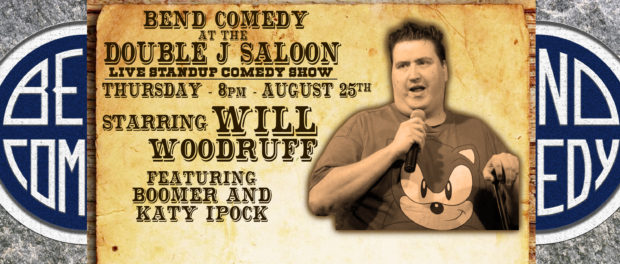 Bend Comedy presents:
– WILL WOODRUFF –
Often considered the funniest guy you've never heard of, Will Woodruff brings a great amount of style and poise to the stage. His impressive wit and passion about his craft have left crowds wanting more. Loved by many, hated by some, his honesty and silliness has earned him a reputation for being an X factor and also a hidden gem on the national stage. Seen at clubs in the northwest and southern US, Will's lovable presence and cleverness make him a must see!
– BOOMER – @BOOMERFM
Boomer grew up calling the Pacific Northwest home! Known for his wild antics, he's mostly popular as one half of the #1 rated "Cort and Boomer Show" on Portland rock radio station 101.1 KUFO-FM. He can even be seen on the Netflix special Comedians of Comedy with Patton Oswalt, Maria Bamford, and Zak Galifanakis! Now he makes the audience laugh in person, as a stand up comic. Since 2008 Boomer has brought a brilliant mix of material, and comedic observations leaving people in stitches!
– KATY IPOCK –
Katy Ipock opens up about her life as a mom and wife without sacrificing her love of Fireball and shenanigans. She is a pinch of nerdy, a touch of dirty, and a whole lot of fun to watch. You can see her in comedy shows throughout the Central Oregon area.
FREE SHOW!!!!
Age: 21+