Bend Comedy presents: Nariko Ott & David Mascorro – Seven Nightclub – Oct 7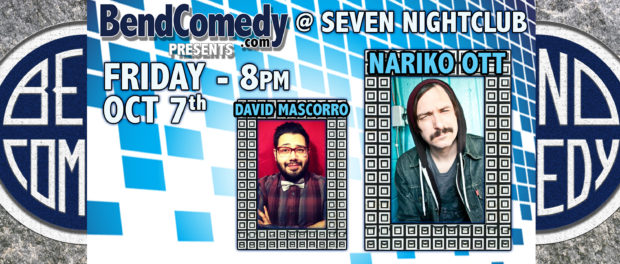 Bend Comedy Presents:
– NARIKO OTT – @Nariko_Ott
Winner of the Portland's Funniest Person Contest 2016 and named one of SplitSider Magazine's "Top Up and Coming Comedians" in 2015, Nariko Ott is definitely a name you won't forget. He's been accepted into the Seattle International Comedy Competition, the Bridgetown Comedy Festival, The Redwood Comedy Festival and the Idaho Laugh Fest. Always working, Nariko has established himself in the comedy community by regularly hosting at Helium Comedy Club. He's the producer of the "Just One of The Guys" the all-female comedy/drag showcase and host of "No Pun Intendo" at Ground Kontrol in Portland. The Willamette Week also recently named Nariko Ott as a member of their "Funniest Five," their ranking of the top 5 funniest people in the city.
– DAVID MASCORRO –
David Mascorro has an unrelenting, energetic soul. When audiences hear David tell personal stories from his life, they instantly feel connected to him like a long lost friend.
David is currently based out of Portland, OR. He produces Funny Humans VS. The Wheel (a comedy game show) & a storytelling podcast about childhood memories called The Awkward Phase.
Seven Nightclub
1033 NW Bond St – Downtown Bend
Showcase: $8 Online / $10 at the door
Age: 21+