Bend Comedy Presents: Phil Johnson & Chris Kemper – Seven Nightclub – Oct 14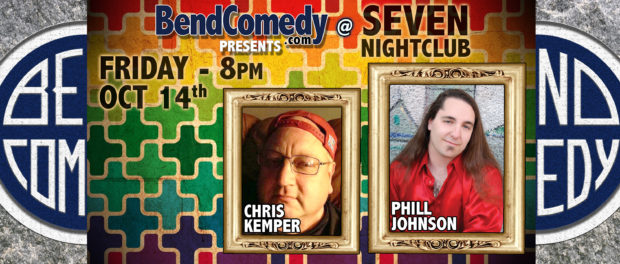 Bend Comedy Presents:
– PHIL JOHNSON – @roadsidephil
Phil Johnson is a man who gets mistaken for a woman, but only by those not paying attention. That revelation kicks off a battle for self-awareness where comedy and music are the weapons of choice. It's a battle that has taken Phil to such esteemed festivals as the Edinburgh Fringe and Sundance Film Festivals and the Top 8 Finals of the World Series of Comedy.
On stage, Phil's playful humor and likeable, endearing manner allow him to shake things up without antagonizing the audience. In the end we can only be who we are, try to understand others, and hope they understand us.
– CHRIS T. KEMPER –
Chirs Kemper has been doing comedy for three years, professional joke writer. His jokes have been heard on every late night talk show, Comedy Central, and every big club, casino and cruise ship all over the US and Canada.He is currently the host of Growling With Laughter, a monthly comedy showcase in Beaverton.
Seven Nightclub
1033 NW Bond St – Downtown Bend
Showcase: $8 Online / $10 at the door
Age: 21+