Bend Comedy Presents: Jon Washington & Tim Ledwith – Seven Nightclub – Nov 11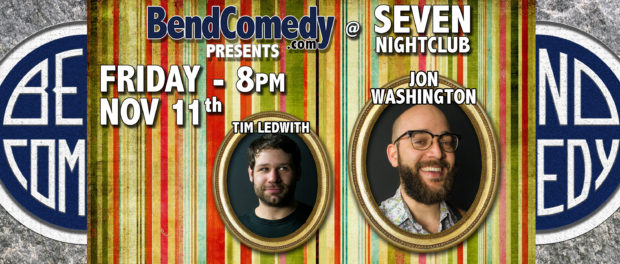 Bend Comedy Presents:
– JON WASHINGTON – @goodolejon
Jon Washington is a comedian hailing from Portland, Oregon. His style pairs up absurd flights of fancy with a rumbling deadpan, which may not work so hot in print, since you're probably reading this aloud in a wacky fun voice. Critics have been divided on how this persona adds up, calling him everything from "instantly likable" to "immediately likable." He's the taste you can see.
He's had the privilege of performing at the Bumbershoot Music and Arts Festival, the Bridgetown Comedy Festival, and less festive environs, such as Helium Comedy Club and Live Wire Radio. Beyond the live comedy stage, Jon Washington's thrown himself at other pursuits, many of them worth the trouble, such as his podcast These are the People, a tongue-meets-cheek parody of public radio as well as having co-written and co-produced The Spicy News, which to this date stands as the sweatiest channel on YouTube. Jon Washington's comedy is smart, accessible and has made some lists, just like that book you pretend to read on the bus. He's such a nice young man; it's just a shame he had to go with this whole 'comedy' thing.
– TIM LEDWITH –
Tim Ledwith is Portland, OR-based comedian who spent most of his life in Massachusetts where he was born during lunar eclipse on the Eve of the Winter Solstice in 1983. Known for folding experiences from his tumultuous past into his material, Tim's comedy is filled with chaotic, gritty hilarity. With his unique take on the world, he weaves real life with absurdity, often finding connections and patterns in things that don't necessarily have them.
A rising star in the Portland comedy scene over the last four years, Tim has performed around the country and regularly appears at Helium Comedy Club, The Funhouse Lounge, and many other known spaces for local comedy. He participated in PICA's renowned Time Based Arts Festival: 2014. Tim also hosts and produces Paradox and Parallel Dimensions; two local showcases with a focus on the experimental side of comedy, often incorporating sound and multimedia.
Hosted by Ryan Traughber
Showcase: $8 Online / $10 at the door
Age: 21+