Bend Comedy Presents: Nathan Brannon & Lance Edward – Seven Nightclub – Dec 2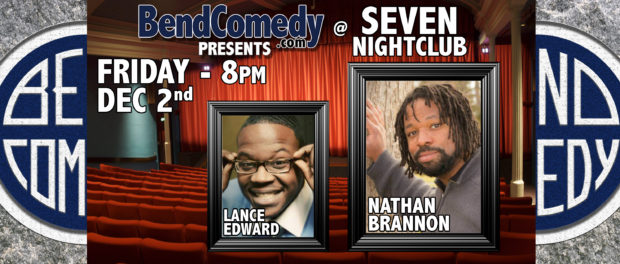 Bend Comedy Presents:
– NATHAN BRANNON – @nathanbrannon
Comedian Nathan Brannon is coming to town! He has been featured on the Fox TV show 'Laughs,' NPR's 'Morning Edition,' was the winner of the 2014 Seattle International Comedy Competition, and recently signed to internationally-recognized record label Kill Rock Stars.
This stop in Bend is a part of his west coast tour, promoting 'Because', his latest album with Kill Rock Stars. This album has already received stellar reviews from publications, and critics throughout the comedy community. You can listen to a sample of the album, and order it, by visiting https://nathanbrannoncomedy.bandcamp.com/ Don't miss this one-night-only opportunity to see one of the best up & coming comedians working today.
– LANCE EDWARD –
Lance has worked with the likes of Alex Thomas, Scruncho, Geoff Brown, Ralph Porter Dannon Greene as well as many others. Many have described his stand up as a breath of fresh air seasoned with a dab of old-school comedic flavor.
Seven years of explosive experience lays foundation for many more to come – the level of originality that seeps from the stage is unreal. As Lance continues to grow and cultivate, so will his originality. When asked what he would bring to the future of comedy, he simply implied "my problems and everyone else's."
Hosted by Ryan Traughber
Showcase: $8 Online / $10 at the door
Age: 21+