Bend Comedy Presents: "Oregon Comics Showcase 2.0" – Seven Nightclub – Dec 16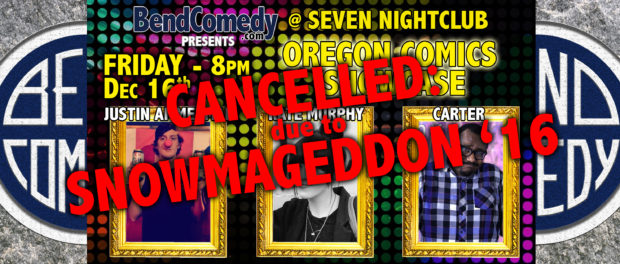 ATTENTION:
This show has been cancelled. If you have already purchased tickets, you will get a full refund.
Bend Comedy presents:
– JUSTIN AMMERMAN –
Justin Ammerman is a comedian from Portland, OR. Having started comedy in late 2013 Justin has quickly become a local favorite up-and-comer. Blending his boyish charm, self-loathing tendencies, and a penchant for going off the cuff he has established himself as a comic who needs to be seen.
Justin has opened for national headliners such as Kristine Levine, Andy Andrist, and musician Mishka Shubaly.
– KATE MURPHY – @katemurphys
Kate Murphy is a stand up comedian based out of Portland, OR.
Born and raised in Montana, Murphy traveled to the PNW to study art but found a love for comedy instead. She has performed along side some of Portland's funniest, and won second place in this year's House Of Hyjinx all female comedy competition. When she's not telling jokes, Kate enjoys being a cat mom, playing cribbage, and drinking copious amounts of whiskey.
– CARTER – @Hi_Im_Carter
Carter is a Portland based Comedian from San Antonio, TX. Since the age of 6, Carter has always shown a great interest in entertainment. He began as an actor from High School to College doing a total of 50 plays throughout the country. He has also worked in radio and local news television. "I always knew that Stand Up was where I wanted to end up, but I didn't know where to start for the longest time" Carter started doing Stand Up in Texas in his last few months there, opening for comedians like Last Comic Standing's Shane Torres and Carlos Valencia before moving to Portland in 2015. Now he does shows throughout the Pacific North West.
Host: Andrew Brunello
Showcase: $8 Online / $10 at the door
Age: 21+