"Oregon Comics Showcase 2.0 – Seven Nightclub – March 31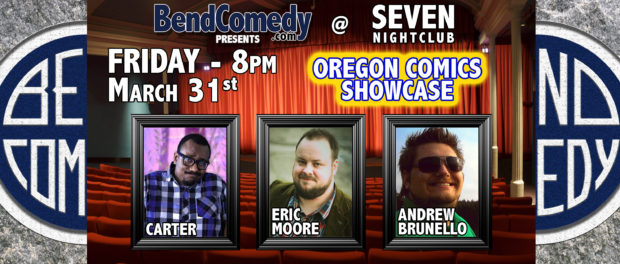 Bend Comedy presents:
The "Oregon Comics Showcase" 2017
– ERIC ALEXANDER MOORE – @_eric_alexander
Blending his unique perspective, with his skewed, outside-the-box writing and his wry yet playful delivery, Salem, Oregon-based comedian Eric Alexander Moore has become a standup comedy mainstay in the Pacific Northwest.
Eric began performing standup comedy as a hobbyist while living in Los Angeles and attending the Musicians Institute where he studied guitar performance. What started as a pressure-release outlet eventually became an all-consuming passion, leading Eric to leave Los Angeles and return to his hometown of Salem, Oregon, where he helped establish the city's now-thriving comedy scene which encompasses three theaters and countless bars and hosts top national touring acts.
– ANDREW BRUNELLO – @Strugglin_Comic
Born in Portland, Oregon and raised on high fructose corn syrup in the suburb's suburbs, Andrew Brunello started doing stand up comedy in late 2013. More recently, he runs the regional comedy blog PNWcomedy.com, hosts and produces a weekly radio program and produces comedy shows throughout the state of Oregon. As far as his comedy, Andrew Brunello is not a person to shy away from making fun of himself. His comedy induces laughter not just through his own unique sarcastic wit, but by hitting the audience with punchline after punchline of thought provoking and timely jabs.
– CARTER – @Hi_Im_Carter
Carter is a Portland based Comedian from San Antonio, TX. Since the age of 6, Carter has always shown a great interest in entertainment. He began as an actor from High School to College doing a total of 50 plays throughout the country. He has also worked in radio and local news television. "I always knew that Stand Up was where I wanted to end up, but I didn't know where to start for the longest time" Carter started doing Stand Up in Texas in his last few months there, opening for comedians like Last Comic Standing's Shane Torres and Carlos Valencia before moving to Portland in 2015. Now he does shows throughout the Pacific North West.
Hosted by Ryan Traughber
Showcase: $8 Online / $10 at the door
Age: 21+