Bend Comedy Presents: Derek Sheen, Jim Allen & Dana Buckendahl – Seven Nightclub – April 28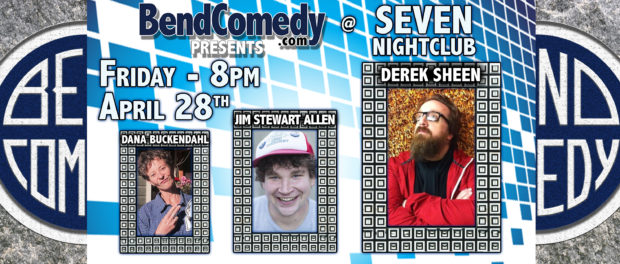 Bend Comedy presents:
– DEREK SHEEN – @dereksheen
-"Derek Sheen is a goddamn delight. So smart and funny it makes me mad. Tiny Idiot? More like Giant Genius"-Brian Posehn
-"Derek Sheen has the uncanny ability to take mundane events and turn them into over-the-top comedy"- PASTE Magazine
-"As often as his crowd seems to brace for impact, they spend more time howling at his audacity"-Drew Hunt/Chicago Reader
Derek Sheen is a cuddly mess of insecurities, a gifted storyteller, actor and writer. He's quickly become a favorite among comedy fans all over the globe touring with Patton Oswalt, Brian Posehn, Janeane Garofolo and Rory Scovel!
His debut album "Holy Drivel" was recorded by iconic metal producer Matt Bayles (Minus the Bear, Mastodon, Isis) and his NEW ALBUM, "Tiny Idiot", was produced by the Grammy nominated Dan Schlissel. Both are available on Stand Up! Records.
– JIM STEWART ALLEN – @thegreatjsa
Jim Stewart Allen is a stand up who found his comedic groove and voice in Bellingham, Washington while getting his history degree at Western Washington University. He now performs all over the Pacific Northwest, delighting audiences with his excitement and enthusiasm. Hell bent on making the strangest of topics hilarious to everyone, you can usually hear Jim ranting about 18th century battle tactics, NFL punters, and even the ever so famous educational computer game, "The Oregon Trail." Jim has performed in the 2014 Seattle International Comedy Competition, and his historical video recently won "fan favorite" in Comedy Central's Drunk History video competition. He is a featured comedian on RooftopComedy.com and you can hear his podcast, "Historiography!" on iTunes.
Featuring: Dana Buckendahl
Hosted by: Ryan Traughber
Showcase: $8 Online / $10 at the door
Age: 21+