Bend Comedy Presents: Chase Brockett & Shain Brenden – Seven Nightclub – May 19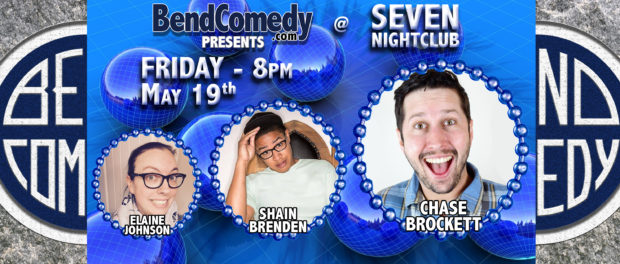 Bend Comedy presents:
– CHASE BROCKETT –
Chase Brockett grew up in Bakersfield, CA, where being tiny and asthmatic forced him to become funny. After growing taller and ditching his inhaler, he moved to Southern California where he would begin performing all over the west coast. His comedy explores a variety of topics, such as family, relationships, politics, and science. His smart and endearingly frustrated comedic style fits well in any type of room. Described as 'America's nephew', his affable charm has delighted audiences in all types of venues – from bars, to theaters, colleges, and clubs such as the Improv and Comedy Store. He currently resides in Portland, OR.
– SHAIN BRENDEN –
Shain Brenden is a stand-up comic, comedy writer and full-time handsome person living in Los Angeles, California, where he can be found between the hours of 10pm – 2am eating at any number of food trucks throughout the city.
He has performed across the country in clubs, colleges and comedy festivals. He's been featured on the NBC owned comedy network SeeSo, as well as Hulu, Amazon, Audible and Rooftop Comedy.
Shain is a U.S. Military Veteran where he spent 10 long years devising ways to not die. When he wasn't deployed to places like Iraq and Afghanistan, he was a contributing writer for Military Times Magazine and Navy Times Newspaper. He's also a husband, a father, and can bench 235lbs… easy.
Featuring: Elaine Johnson
Hosted by: Ryan Traughber
Showcase: $8 Online / $10 at the door
Age: 21+