Bend Comedy Presents: David Huntsberger & Andie Main – Seven Nightclub – May 26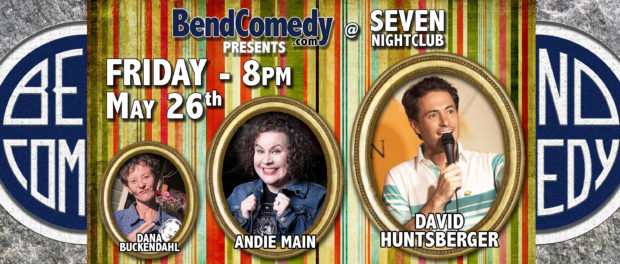 Bend Comedy presents:
– DAVID HUNTSBERGER – @huntsbergerjunk
David Huntsberger is a unique voice in stand-up comedy. Drawing on his deep curiosity about science, technology, philosophy, and many topics in between, his comedy is intellectual, pointed, and self aware. This curiosity and openness has led to a number of interesting collaborations, including his latest film One Headed Beast and a monthly variety show he hosts in LA called The Junk Show.
A touring standup comedian, he has also appeared on major television networks including NBC, Comedy Central, and the SyFy Network. He has released several albums of standup comedy. The most recent, Explosion Land, debuted in the Top 15 at iTunes.
Finally, no stranger to podcasting — he was co-creator of the very popular Professor Blastoff podcast. He currently hosts his own podcast, The Space Cave.
– ANDIE MAIN – @andiemain
Andie Main is a Portland based comedian who keeps busy by producing/hosting The Doug Fir Lounge's summer series The Cool Kids Patio Show, and her politically themed series called Revolution Comedy, which organizes fundraisers for progressive causes like Planned Parenthood, The ACLU, and Don't Shoot PDX. At this bizarre moment in our nation's history, her efforts have contributed over $10,000 to#theresistance and although she is a life long punkrocker, is stoked to see these shows selling out regularly.
Festival credits include The Comedy Exposition, repeated appearances at SF Sketchfest and The All Jane Comedy Festival, Bumbershoot, Seattle Sketchfest, Portland Pride, Treefort Festival and Cromfest. She has recently performed for sold out crowds at UCBeast, UCB Chelsea and The Stand Nightclub in NYC, and esteemed shows in LA like The Rabbit Hole and Put Your Hands Together. When in Portland she is a fixture on the NW circuit and a regular at Helium Comedy Club.
She is a regular feature for comedians like TJ Miller, Myq Kaplan and David Huntsberger and after the shows they've all said "hey Andie that was great!" and got brunch because you can order brunch whenever you want in Portland.
In her spare time she enjoys taking hikes with her not-so-smart dog, pizza, making weird art, nature documentaries and yelling about the patriarchy.
Featuring: Dana Buckendahl
Hosted by: Ryan Traughber
Showcase: $8 Online / $10 at the door
Age: 21+