Bend Comedy Presents: Laci Day & Jason Traeger – Seven Nightclub – June 9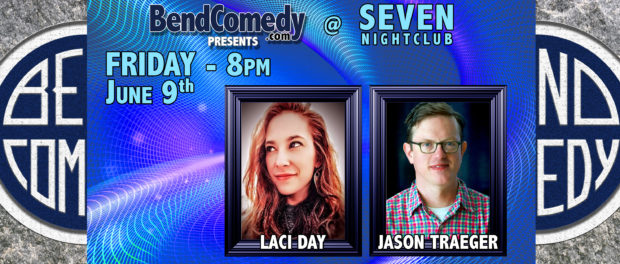 Bend Comedy presents:
– LACI DAY – @llcooldaze
Laci Day is a Portland-based comic and aspirational ghost. She is known for her unique brand of darkly absurd comedy that has been described as "a Lite-Brite in a really dark sketchy alley". She's also very easy to lure into traps.
– JASON TRAEGER – @jasontraegercomedy
Jason Traeger is a comedian living in Portland, OR, where he is white and wears glasses but strangely has never had a beard. He appeared in the 2016 Bridgetown Comedy Festival and was voted one of Portland's Funniest Five in Willamette Week's 2015 poll. He is a regular at Helium Comedy Club and has been a two time finalist in the club's Portland's Funniest Person Competition. Jason's monthly show Comedy and Cocktails was included in the 2015 Bridgetown Festival. In 2014 he was invited to curate comedy for TBA:14, Portland's premier performing arts festival.
Hosted by: Ryan Traughber
Showcase: $8 Online / $10 at the door
Age: 21+