Bend Comedy Presents: 4th Annual Ladies Night Comedy Showcase – Seven Nightclub – September 8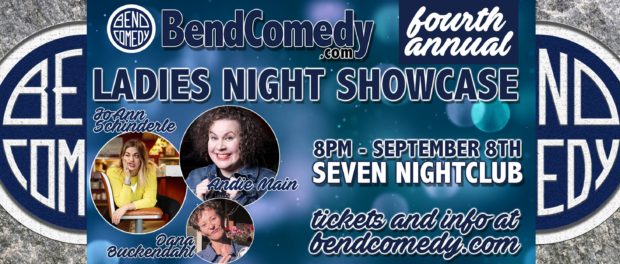 Bend Comedy presents our 4th Annual Ladies Night show! 
Proceeds from this year's show will support Planned Parenthood and Saving Grace
– ANDIE MAIN – @andiemain
Andie Main is a Portland based comedian who keeps busy by producing/hosting The Doug Fir Lounge's summer series The Cool Kids Patio Show, and her politically themed series called Revolution Comedy, which organizes fundraisers for progressive causes like Planned Parenthood, The ACLU, and Don't Shoot PDX. At this bizarre moment in our nation's history, her efforts have contributed over $10,000 to#theresistance and although she is a life long punkrocker, is stoked to see these shows selling out regularly.
Festival credits include The Comedy Exposition, repeated appearances at SF Sketchfest and The All Jane Comedy Festival, Bumbershoot, Seattle Sketchfest, Portland Pride, Treefort Festival and Cromfest. She has recently performed for sold out crowds at UCBeast, UCB Chelsea and The Stand Nightclub in NYC, and esteemed shows in LA like The Rabbit Hole and Put Your Hands Together. When in Portland she is a fixture on the NW circuit and a regular at Helium Comedy Club.
She is a regular feature for comedians like TJ Miller, Myq Kaplan and David Huntsberger and after the shows they've all said "hey Andie that was great!" and got brunch because you can order brunch whenever you want in Portland.
In her spare time she enjoys taking hikes with her not-so-smart dog, pizza, making weird art, nature documentaries and yelling about the patriarchy.
– JOANN SCHINDERLE – @joannlizabeth
JoAnn Schinderle hails from the upper Midwest and despite being a Portlander now, will probably never lose her "hot dish" accent. (Hot Dish ingredients include but are not limited to: Beef, noodles, cream of mushroom soup, tater tots, and an iron clad stomach). 
JoAnn has performed across the country in such festivals as Bumbershoot, Bridgetown Comedy Festival, Chicago Comedy Exposition, SF Sketchfest, Hell Yes Fest, All Jane Comedy Festival, Out of Bounds Comedy Festival, as well as having won multiple rounds of Competitive Erotic Fan Fiction. Schinderle has been known to win crowds over with her pervy charm. JoAnn also had the honor of opening for Lena Dunham on her 'Not That Kind of Girl' book tour in a sold out show at Portland's Newmark Theatre. 
JoAnn has appeared on Laughs TV, VICE, Rooftop Comedy, Fight Stigma Web Series, and is a contributing writer for Laugh Staff. She also hosts, curates, and produces a weekly showcase called Control Yourself: A Showcase of Funny, which has been featured as 'Top 5 Portland Comedy Showcases to Watch' 3 years running by the Willamette Week. 
– DANA BUCKENDAHL – @BuckDana
Hosted by: Elaine Johnson
Showcase: $8 Online / $10 at the door
Age: 21+