Bend Comedy Presents: Neeraj Srinivasan & Bill Conway – Seven Nightclub – November 17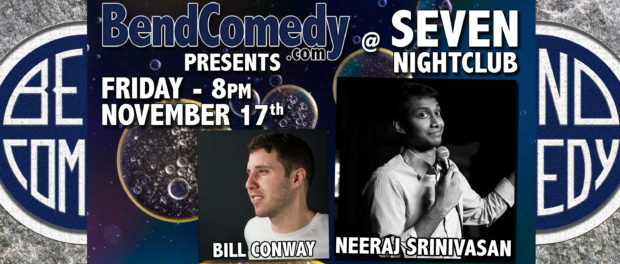 Bend Comedy presents: 
– NEERAJ SRINIVASAN – @neerandloathing
Neeraj Srinivasan is a comedian from Boise, Idaho now residing in Portland, Oregon. A first generation Indian-American, he discovered a passion for stand-up comedy in college and has been performing all over the U.S. ever since. He regales audiences with his remarkable takes on dealing with race relations, millennial life and the immigrant experience through stories from his unconventional upbringing or misadventures and platitudes of adult life; all while maintaining his enthusiasm and whimsical attitude. Neeraj has performed in venues all over the Northwest in addition to being featured in "Portlandia" as well as the Out Of Bounds Comedy Festival, Gilda's Laughfest, Treefort Music Festival and Crom Comedy Festival.
– BILL CONWAY –
Bill Conway is a Portland-based comedian whose perspective comes from his life in the straight edge and hardcore communities. While some might expect an aggressive presence, Bill's calm onstage energy and wide-ranging humor are what attract audiences. A multifaceted talent, Bill is also the creator and producer of the Edgeland Podcast, as well the head writer for the increasingly popular satire news site The Hard Times.
Hosted by: Ryan Traughber
Showcase: $8 Online / $10 at the door
Age: 21+