Bend Comedy Special Event: Myq Kaplan & Jon Washington – Seven Nightclub – November 10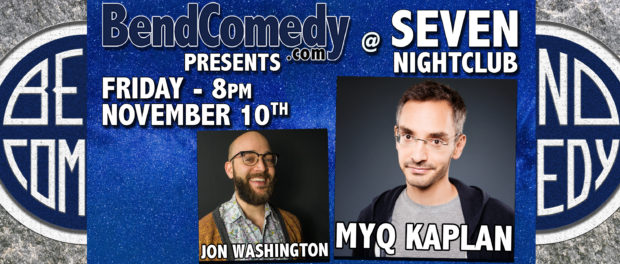 Bend Comedy presents a Special Event Showcase:
– MYQ KAPLAN –
Myq Kaplan is a comedian named Mike Kaplan.
He has been seen on the Tonight Show, Conan, the Late Show with David Letterman, Late Night with Seth Meyers, in his own half-hour Comedy Central Presents special, and in his own one-hour special on Netflix and Amazon, "Small, Dork, and Handsome." He has been a finalist on Last Comic Standing and recently appeared on America's Got Talent. His debut album "Vegan Mind Meld" was one of iTunes' top 10 comedy albums of the year, and his most recent album "No Kidding" is one of the top billion albums of eternity. And that's only the past! Even more to come in the future!
– JON WASHINGTON –
Jon Washington is an indelible part of Pacific Northwest comedy, appearing at LiveWire Radio, Helium Comedy Club, and Seattle's Comedy Underground. He's been acknowledged favorably by the Portland Mercury and ambivalently by the Willamette Week. You may have enjoyed his writing, on the Youtube pain gauntlet Spicy News, or the NPR spoof podcast "These are the People."
With a cracker-dry wit that focuses on the surreal, Jon's trash-compacted his neuroses into a distinct voice. A cerebral approach to both pop culture and the mealy fabric of everyday life has quickly made him known as the Jon Washington of Standup Comedy.
Hosted by: Ryan Traughber
Showcase: $12 Online / $15 at the door
Age: 21+