Bend Comedy at the Double J Saloon – Redmond – December 28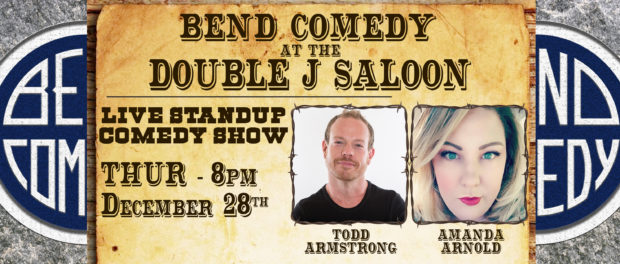 Bend Comedy returns to Redmond to present another great standup comedy show! The Double J Saloon, in downtown Redmond, hosts Central Oregon's best comedy lounge. 
Once a month, come laugh your cares away with one of America's most talented headliners. This is a free show, with no cover and no drink minimum. All you have to do is show up and enjoy yourself! Bring your friends and indulge in a much needed night out!
– TODD ARMSTRONG –
Todd Armstrong has done the Bridgetown Comedy Festival a couple times, he was featured on VICELAND's Bong Appetite' and played Max on the Season Finale of Portlandia. His comedy has represented Portland, OR in many ways including hosting Comedy Central's "Comics to Watch". Audiences from Portland, Oregon to Maui, Hawaii to New York City have been shown his unique wit, energetic charm, outlandish truths and stranger than fiction stories. Todd has worked with many of best comedians; Dave Chapelle, Bill Burr, Marc Maron, Amy Schumer, Iliza Shelsinger, Jay Mohr, Nick Kroll, Dave Attell, Chelsea Peretti, Todd Barry, Jon Lovitz, Tommy Chong. Rob Schneider and many more.
He also is the Host, Writer, Director and Co-Producer of "Permanent Comedy", a web-series that follows Todd as he interviews Comedians, Artists and Friends about comedy, life and making permanent choices in both. View it at www.permanentcomedy.com
– AMANDA ARNOLD –
Amanda Arnold is a Portland based stand-up
comic. As soon as Amanda gets on stage you're ready to laugh. This self-proclaimed "chubby not ugly" joke slinger delivers the funny from the very start. Amanda's fast paced, extremely funny comedic style earned her the title "Top 5 Funniest Comics" in Portland, Oregon by the Willamette Week in 2016. Featured in the All Jane Comedy Festival, Idaho Laugh Fest, Bridgetown Comedy festival and Laughs on Fox. Amanda did stand-up comedy for the first time when she was 8 years old! Yes! You read that correctly! It's no wonder you get a feeling when watching her that some people are just born funny.
FREE SHOW!!!!
8pm – December 28th
The Double J Saloon
Downtown Redmond
Age: 21+