Bend Comedy Presents: Chase Brockett & Elena Hayden – Seven Nightclub – December 1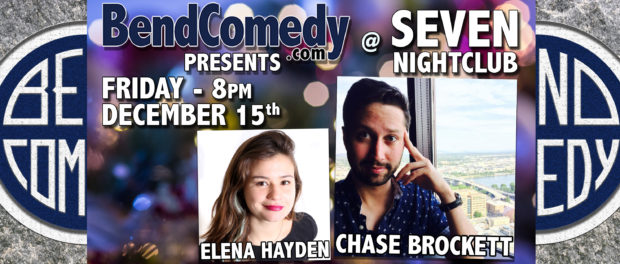 Bend Comedy presents:
– CHASE BROCKETT –
Chase Brockett grew up in Bakersfield, CA, where being tiny and asthmatic forced him to become funny. After growing taller and ditching his inhaler, he moved to Southern California where he would begin performing all over the west coast. Chase explores a variety of subjects, such as family, relationships, politics, and science. His smart and endearingly frustrated comedic style fits well in any type of room. Described as 'America's nephew', his affable charm has delighted audiences in all types of settings including bars, theaters, college campuses, and clubs such as the Improv and Comedy Store where he was regularly part of "Best of San Diego". He currently resides in Portland, OR.
– ELENA HAYDEN – @elenasabitch
When you first see Elena C. Hayden you're probably wondering, why is that child talking about sexy stuff? Isn't she past her curfew? Don't be fooled by her sweet smile and fairy-like disposition, this seemingly nice girl is going to make you laugh. Elena C. Hayden is a Cuban-America stand-up comedian hailing from rainy Portland, OR. Post college Elena, like most millennials, struggled to find a conventional job, so in 2017 she took to the road and traveled across America via train. Her adventures can be found on elenaescapes.wordpress.com.
Hosted by: Ryan Traughber
Showcase: $8 Online / $10 at the door
Age: 21+