Bend Comedy Presents: Amanda Arnold – Seven Nightclub – March 16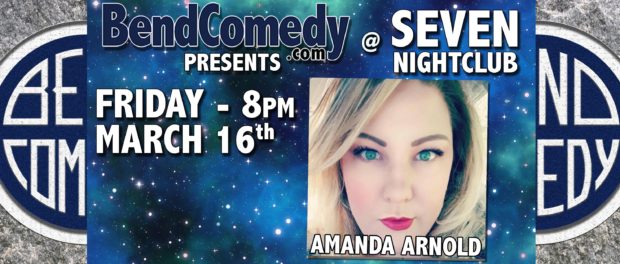 Bend Comedy presents:
– AMANDA ARNOLD –
Amanda Arnold is a Portland based stand-up comic. As soon as Amanda gets on stage you're ready to laugh. This self-proclaimed "chubby not ugly" joke slinger delivers the funny from the very start. Amanda's fast paced, extremely funny comedic style earned her a bi-monthly show at Helium Comedy Club in her hometown where she is a regular getting the opportunity to work with people like Bert Kreischer, Nikki Glaser and Jay Pharoah just to name a few. She was awarded the title "Top 5 Funniest Comics" in Portland, Oregon by the Willamette Week in 2016. Featured in the All Jane Comedy Festival, Idaho Laugh Fest, Bridgetown Comedy festival, Laughs on FOX as well as featuring and headlining in all over the Pacific Northwest, Amanda is now co-producing her own comedy festival. The Undertow Comedy Festival will take place in Lincoln City, Oregon coming this April 2018. Amanda did stand-up comedy for the first time when she was 8 years old! Yes! You read that correctly! It's no wonder you get a feeling when watching her that some people are just born funny.
Showcase: $8 Online / $10 at the door
Age: 21+