Bend Comedy Presents: David Mascorro & Kelly Richardson – Seven Nightclub – March 9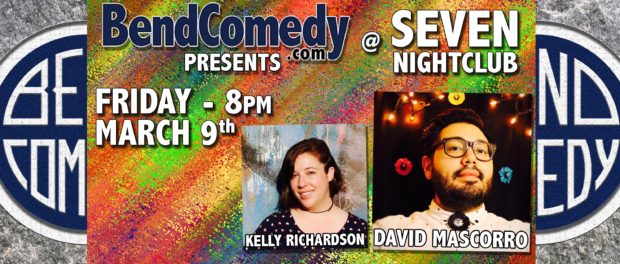 Bend Comedy presents:
– DAVID MASCORRO –
David Mascorro is a Portland based comedian who's quickly becoming one of the most sought after stand-ups in the Northwest. His infectious energy, natural charisma, and trademark style make each of his performances an unforgettable experience.
The son of Mexican immigrants, Mascorro trained as an improviser at both the Annoyance Theater and Second City in Chicago. His unique upbringing and improv background allow him to craft vibrant, personal stories with energetic delivery and unrelenting punchlines. While his last name may be hard to pronounce, it's never difficult for an audience to relate to David's honed point of view.
Mascorro has been featured on the Bridgetown Comedy Festival, produces several shows and podcasts (including Funny Humans, The Awkward Phase, and Bug-A-Boo), and regularly performs at Portland's prestigious Helium Comedy Club.
– KELLY RICHARDSON –
Kelly Richardson is a comic on the rise in the Portland comedy scene. Her sweet demeanor somehow compliments her often macabre material. Her perspective on childhood, God, and relationships has been noticed by many local showcases. Kelly starred in a short film about comedy called Unfunny. She performed at the Big Pine comedy festival. Kelly co-hosts a comedy podcast about fear called Bugaboo.
Showcase: $8 Online / $10 at the door
Age: 21+