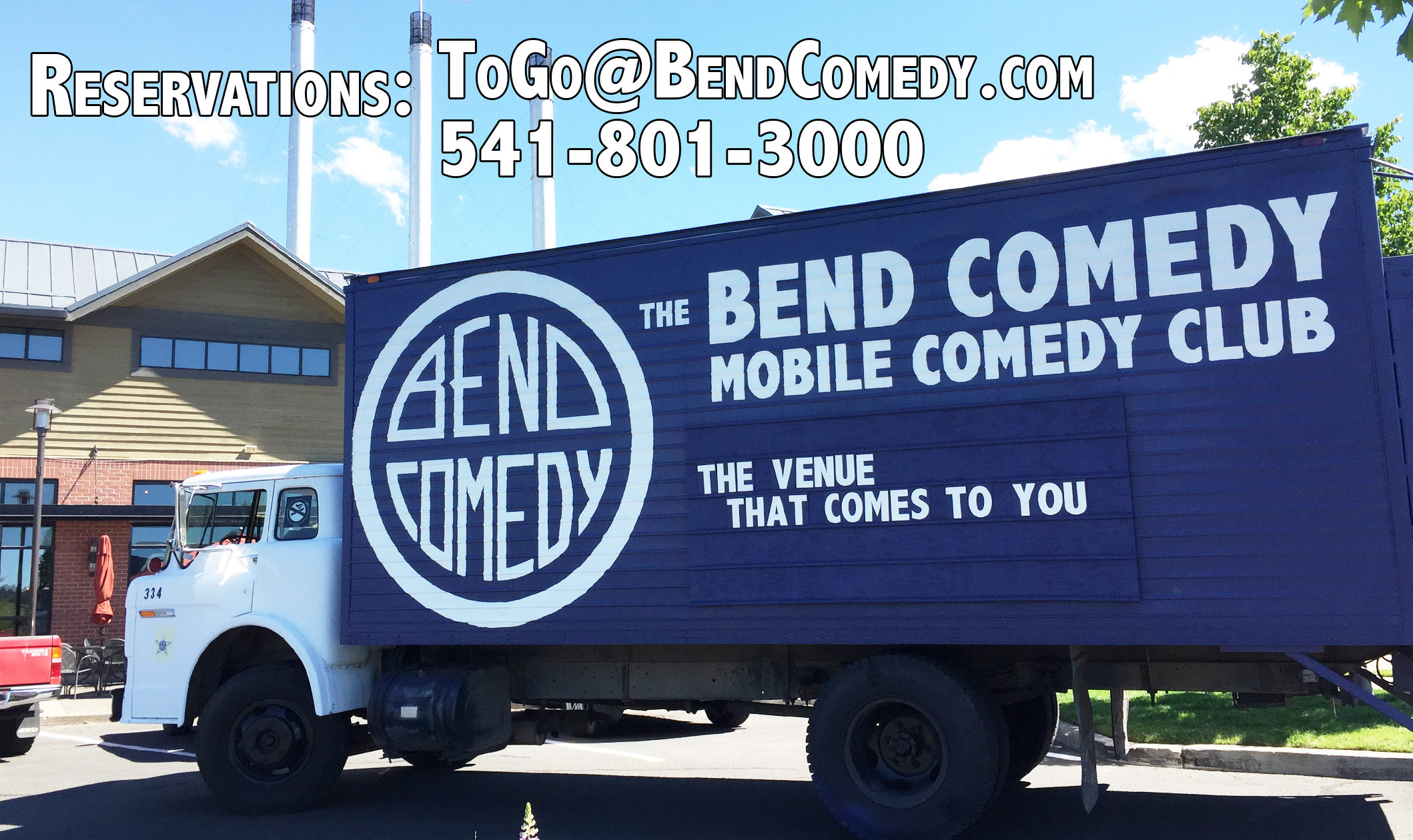 The Bend Comedy Mobile Comedy Club is OPEN!!!
The venue that comes to you!
Are you planning a party?
-Don't worry about booking entertainment!
-Don't worry about finding a caterer!
-And you REALLY don't have to worry about cleaning up afterwards!!
We handle your whole event from beginning to end!
Full Bar – with soft drinks, beer, wine, cider and booze…
Catering options for any size party – Vegan, vegetarian, gluten free…
Entertainment of your choice – Comedy, karaoke, DJ, etc…
---
-PRESS RELEASE-
 Bend Comedy Launches New Mobile Comedy Club
"The Venue That Comes To You"
Bend, Oregon – June 26, 2017 – Bend Comedy has announced the launch of Bend Comedy To Go, the latest addition to its entertainment options available throughout Central Oregon. Bend Comedy has provided standup comedy, pub trivia, and other entertainment across the region, and now the show can come to you!
"We often get calls from well known comedians touring the Northwest who are interested in coming to Bend, sometimes with very little advance notice," says Bend Comedy owner Ryan Traughber. "We wanted to provide an option that gives us the flexibility and spontaneity to put on a show wherever and whenever we see the opportunity."
In addition to pop-up shows around Bend, Traughber is excited about the opportunity to produce private events. "Our To Go service also gives fans a chance to book Bend Comedy for their private event, and know that we'll have all of the talent, equipment and concessions needed to put on a great show – anywhere, anytime." 
The mobile venue also features a full bar and catering options. In addition to comedy, clients can also choose from a variety of entertainment options, such as improv, karaoke, live musicians, DJ, and more.
To learn more about Bend Comedy To Go, or to book a private event, contact Bend Comedy at 541-801-3000 or ToGo@bendcomedy.com. Follow @BendComedyToGo on Instagram and Twitter to stay informed about upcoming shows.
www.BendComedy.com/ToGo
Press Contact: Ryan Traughber
Phone: 541-419-0111
Email: ryan@bendcomedy.com