Bend Comedy Presents: Jason VanGlass & Becky Sanders – Seven Nightclub – February 23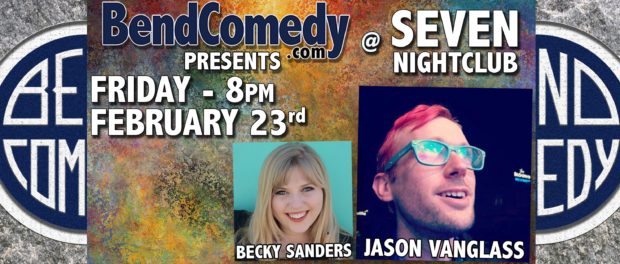 Bend Comedy presents: 
– JASON VANGLASS –
Master of the one-liner, and favorite comedian of servicemen and presidents alike, Jason Van Glass is one of the nation's most-beloved entertainers, a millionaire many times over, and a star in every category open to him: vaudeville, radio, television, and film, most notably a string of "Road" movies with longtime friend Bing Crosby. He has performed at the Bridgetown, SF Sketchfest, and Crom Comedy Festivals, and traveled countless miles to entertain his troops in cities like Austin, Atlanta, Seattle, New York, New Orleans, and San Francisco. The Bob Hope American Patriot Award is named in his honor.
– BECKY SANDERS –
A prolific improviser and musician based in Los Angeles, California.
Becky is a veteran performer on house teams at iO West, ComedySportz, Second City, and The Pack Theater, where her team yay! currently hosts the Death Match. She is also a singer-songwriter/guitarist, and performer on the acclaimed musical-improv shows The Sound of Musical and The Live Sessions. This is the part of the bio where she wrote something non-sequitur or charming, perhaps a short anecdote to indicate she is a fun person who doesn't take writing her own biography 100% seriously.
Showcase: $8 Online / $10 at the door
Age: 21+