Bend Comedy Presents: Travis Nelson & Vanessa Dawn – Seven Nightclub – March 23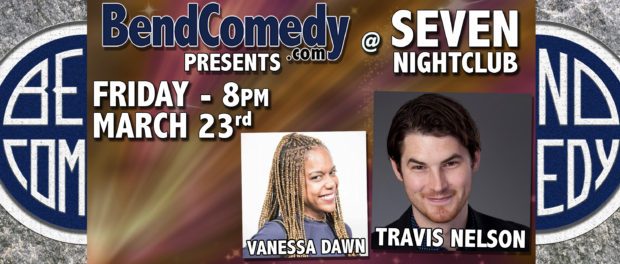 Bend Comedy presents:
– TRAVIS NELSON – @travisisjoking
Technically a giant at 6'9″, Travis was raised in the rainforests of Washington State where the lack of sunshine and abundance of caffeine fostered his obsessive goofball personality. With an act that intertwines real personal stories and experiences with absurd and imaginative meanderings, he invites the audience to escape into the sometimes dark but always lighthearted playground of his psyche.
Travis has made a name for himself touring across the United States and Canada bouncing between rowdy comedy club audiences and clean corporate events. He regularly performs on military bases with the Laugh Catchers Comedy Tour, Boob Tour for Breast Cancer, Raise the Woof for the SPCA, was chosen to perform at the Idaho Laugh Fest, and has been featured on Rooftop Comedy.
– VANESSA DAWN –
Vanessa Dawn is a comedian from Tulsa, Oklahoma now living in the Pacific Northwest. Her laid back style of observational comedy keeps the audience laughing. She has performed in the Blue Whale Comedy Festival, and hosted at the Loony Bin Comedy Club and Laugh's Comedy Club in Seattle.
Showcase: $8 Online / $10 at the door
Age: 21+